I am excited to share with you a new weekly link up!
Each week we will feature something different- outfit posts, collaborations, a giveaway or whatever is on our hearts that week! So feel free to follow along and link up !
We are two Mamas who believe fashion is still possible after motherhood, that our babes are a blessing & that life is wild & beautiful.
We share our wild and lovely with you each week. We would love if you would join us every Wednesday in sharing anything you like.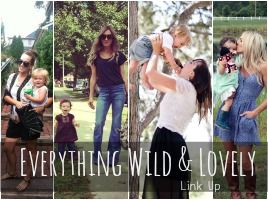 My Outfit:
Dress -
Shop Van De Vort
Cardigan -
Shop Van De Vort
Bag - Forever 21 (available for Sale on my instagram closet @wildflowercloset)
Shoes- Target
Jewelry - Forever 21
Kyler's Outfit:
Hat and Shirt - H&M
Shorts- Baby Gap