For this weeks link up we are sharing pictures from our week. These are my favorite kind of blog
posts to do ! Hence why I started a lifestyle blog =) I love taking
photos of everyday life and capturing little details of the day and things
that make that day a little brighter!
Especially since this week has been a bit of a tough one! First Kyler got the stomach flu and
not shortly after so did momma. At least I got it on a sunday when my husband didn't have work and
could help out (trying to look on the bright side here! haha). Naturally you guys do not want to see
pictures of that, so i snapped a few shots
from around the house, little touches of fall are gracing our home !
Yesterday we finally started feeling better
and managed to get out of the house for a little bit. We ran a few errands, went on a nature walk
and than when my husband got of work we headed over to
the beach for a little family time!
I hope you all are having a lovely week and I hope none of you get the stomach flu !
P.s. Don't forget to head on over to
Lauren's Blog
and see what she's
been up to this week !
xoxo
We are two Mamas who believe fashion is still possible after motherhood, that our babes are a blessing & that life is wild & beautiful.
We share our wild and lovely with you each week.
We would love if you would join us
every Wednesday
in sharing
anything you like.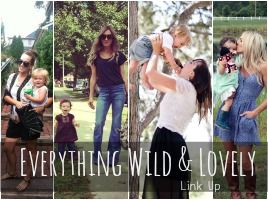 There are no rules except to follow
Alycia
and
Lauren

,
& link up your posts below to meet some new friends. Help us share by linking back.